Welcome to the wonderful world of art! We know that creating your next masterpiece can be an exciting and daunting task, but don't worry – we're here to help. Today, we'll discuss the perfect A1 canvas size for your next work of art.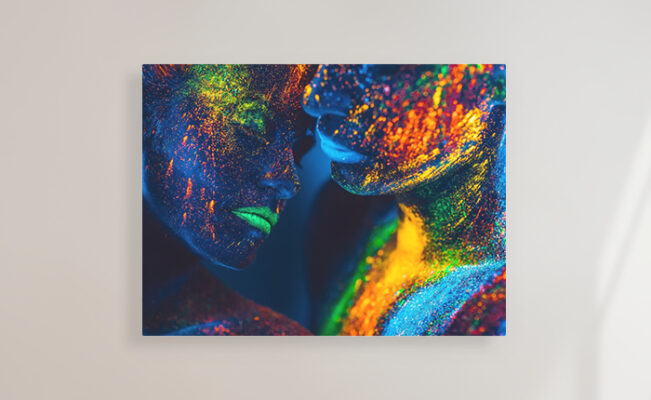 Oh, the joys of A1 canvas prints!
One of the favorite things of artists.
Let's talk about all the wonderful benefits of this perfect size of Canvases. Firstly, A1 prints offer a large and spacious canvas that can truly bring your artwork to life. Whether you're creating a stunning landscape or a striking portrait, the generous size of an A1 canvas allows you to capture every detail and create an impact that will leave a lasting impression on your viewers. Plus, the added space also gives you more room to experiment and let your creativity run wild!
But that's not all – A1 prints also offer excellent clarity and resolution, ensuring that your masterpiece looks crisp, clear, and stunningly vibrant. And thanks to the high-quality materials used in the production of A1 prints, they are incredibly durable and long-lasting, so you can enjoy your artwork for years to come.
So why settle for anything less than the best? Choose A1 canvas-size prints for your next masterpiece and unleash your inner artist in style!
Import Factors while Choosing Canvas Sizes
When it comes to choosing an A1 canvas size for your next work of art, several factors should be taken into consideration. First and foremost is what type of painting or drawing you will be creating. Depending on whether it is an abstract piece or a realistic portrait will determine how much space you need on the canvas to create something beautiful and unique.
Placement of A1 Canvas
A1 Canvas Size has a wide variety of canvas sizes and shapes available so that artists can find the perfect fit for their artwork. From standard square canvases to large rectangular ones, there are plenty of options available depending on what type of work you're creating. The high-quality materials used in all their products ensure that each piece will last for many years without fading or cracking.
The best part about using A1 Canvases is how easy they are to hang up and display your artwork around the home or office space! You can easily mount them onto walls with nails or screws, making it simple for anyone who wants to show off their creations in style.
The luxury of Hanging A1 Canvas
An A1 canvas is a great choice for many artists because it offers plenty of room to create without being too large or cumbersome. Plus, it's an affordable option compared to larger sizes like A0 or even larger formats such as mural-sized canvases. The standard dimensions for this size are 594mm x 841mm (23 3/8″ x 33 1/8″), so you have a generous amount of space in which to express yourself artistically!
Artwork Detailing in A1 Canvas
When selecting an appropriate canvas size, consider how much detail you want in your artwork and what kind of impact you want it to make on viewers when they see it hanging up on their wall or displayed elsewhere in their home or office space.
If you prefer more intricate details and variations of color variations throughout the piece then opt for something with more surface,e area; however, if subtlety is key then go with something smaller like an A2 format instead (420 mm x 594 mm). It all depends on personal preference in the end!
Ultimately though no matter what type – small-scale sketches through full-blown murals – every painting should be treated equally when considering its importance within any given collection whether personal or publicly exhibited works alike… So why not start by taking advantage of our helpful advice today? Get creative with one of our recommended sizes above: choose wisely & let's get started making beautiful new pieces together soon!!
So don't wait any longer – get creative today with A1's amazing selection of canvases and start crafting your next masterpiece.