Want to Curate Your Walls with Landscape Canvas Prints?
🔔 Read this article to get amazing ideas
Creating a stunning gallery wall with landscape canvas prints is not just about selecting the right images and arranging them in a visually pleasing manner. It's about capturing the essence of nature, evoking emotions, and telling a story through the collection of images.
As you curate your wall, consider how the landscapes you've chosen might make your viewers feel, what they might inspire in them, and what kind of narrative they collectively weave. By thoughtfully selecting and arranging your prints, you have the power to transport your viewers to a different place and time, offering a window into the beauty and wonder of the natural world.
Spruce Up Your Room with Landscape Canvas Prints
Gallery wall landscape canvas prints are an excellent way to spruce up any room. Not only do they add visual interest, but they can also tell a story about the owner's personal style and interests. Five themes work particularly well when selecting prints for a gallery of landscape canvas prints: nature, abstract art, vintage photography, typography, and pop culture references.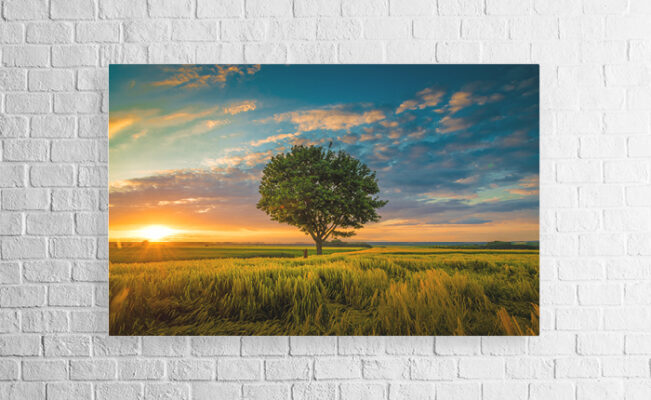 1. Nature-inspired
Nature-inspired art is great for creating a calming atmosphere in any space; think of lush forests or sunsets over the ocean painted on large canvases as part of your gallery wall display. Abstract landscape canvas prints artwork adds energy and dynamism to spaces with its vibrant colors and bold shapes; this type of artwork often requires viewers to interpret what it means on their terms which can be quite interesting!
2. Typography:
Vintage photographs bring nostalgia into the home while typography pieces help emphasize words or phrases that you may want visitors to focus on when looking at your collection – think motivational sayings like "Live Laugh Love" written out in big letters across multiple canvases! Finally, pop culture references such as movie posters from classic films or album covers from favorite bands make great conversation starters amongst guests who visit your home too – perfect if you love entertaining friends!
3. Cityscapes:
Canvas prints of cityscapes feature urban landscapes and city skylines and are great for adding an urban and modern feel to your décor. Canvas prints of cityscapes are a great way to add an urban and modern touch to your home decor. They feature stunning city skylines and urban landscapes and can make a great focal point in any room. With so many different styles and cities to choose from, you can find the perfect piece that fits your unique style.
4. Abstract Floral Landscapes:
Floral landscape canvas prints feature stunning artworks of nature's beauty, from lush gardens to vibrant fields of wildflowers. With an emphasis on botanicals, our prints will make a lovely addition to any home or office décor. There are some placement ideas for displaying floral landscape canvas prints in your home: You can Hang a large floral landscape canvas print above your sofa to create a focal point in your living room .
Alternatively, you can create a gallery wall of smaller floral landscape prints to add color and texture to your space. Hang a canvas print of a tranquil floral landscape above your bed to create a serene and peaceful atmosphere in your bedroom. Floral Landscape can add a touch of elegance to your dining room by hanging a large floral landscape canvas print on one of the walls. They can Create a warm and welcoming entryway by hanging a colorful floral landscape canvas print on the wall.
5. Abstract landscapes:
Canvas prints that showcase abstract landscapes can be a great way to add a modern touch to your décor, with geometric shapes, bold colors, and unusual compositions. Canvas prints featuring abstract landscapes can be excellent additions to any home decor, providing a unique and modern touch. Not only can you choose from a range of geometric shapes, but you can also pick from a variety of bold colors and dynamic compositions. With the right canvas print, you can create an atmosphere of creativity and intrigue in any room.
Landscape canvas prints create beautiful compositions
In conclusion, all these different types of landscape canvas prints create beautiful compositions together making them ideal choices for anyone looking to create stunning gallery walls within their homes – no matter what kind of aesthetic you prefer there will always be something suitable available so get creative today!