Are you ready to elevate your little one's nursery to a whole new level of cuteness? Look no further! In this blog post, we've curated a collection of five irresistibly adorable canvas prints for newborns that will make you say "aww" every time you walk into the room. From sleepy animals to whimsical unicorns, these prints are guaranteed to add a touch of whimsy and charm to your baby's space. Get ready to swoon over these baby-approved masterpieces!
Extraordinary Occasion to welcome a child into the world
It is an extraordinary occasion to welcome a child into the world, filled with love, joy, and indelible memories. We, as parents, are trying to preserve and celebrate these precious moments. A canvas print is a wonderful way of preserving and showing these memories to the world.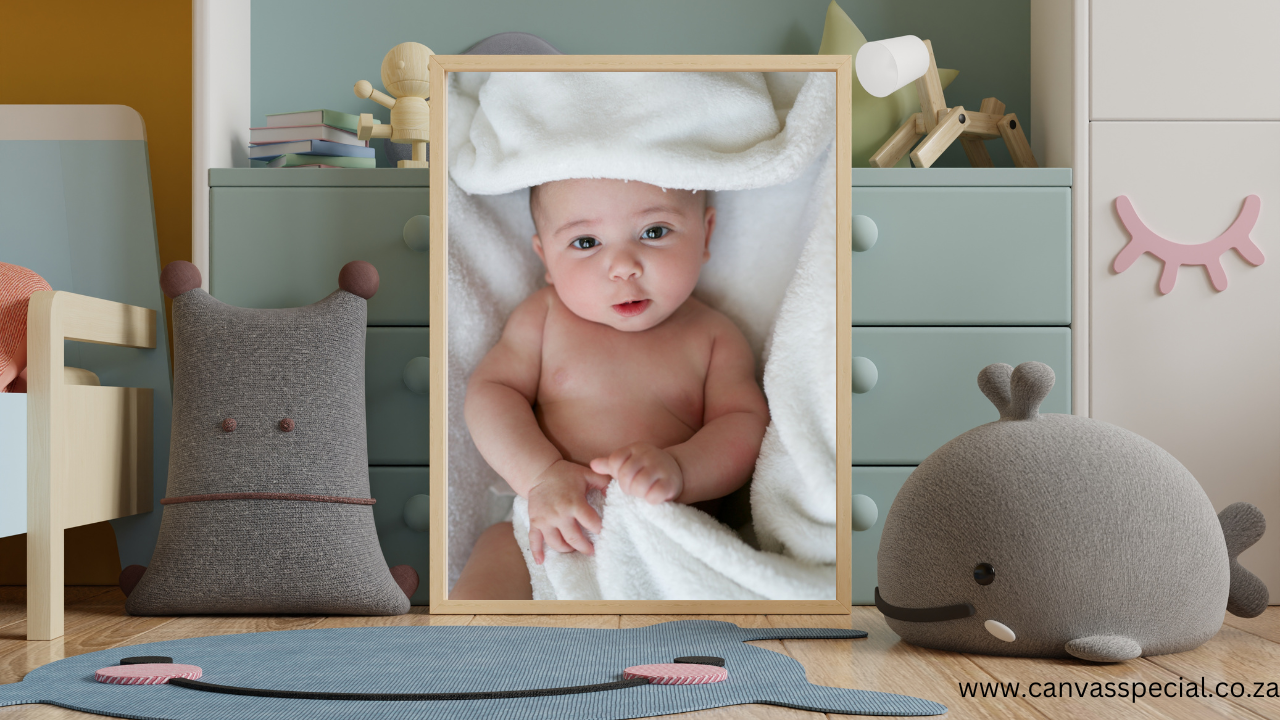 5 Attractive Canvas Prints for Newborns
We'll be looking at five interesting ideas for printed canvas, capturing the essence of your baby and creating a lasting souvenir that you can look back on many years from now.
Newborn Portrait
Create a canvas print of your baby's face to capture their innocence and beauty. A stunning canvas print, which you can proudly display in your home, may be transformed into a professional newborn portrait or carefully captured candid moments. Select a close-up photograph that highlights the tiny features of their personalities and expresses them in an individual way.
Baby's name and birth statistics
Create a customized canvas print to display your child's name and birth statistics. Choose a charming font and style, which complements the theme of your nursery. You can include their full name, date of birth, age, weight and length. The canvas painting celebrates their arrival but becomes a treasured memento which tells the story of their birth.
Baby's Footprints or Handprints
Create a canvas print with your baby's footprints or handprints, capturing the preciousness of these little hands and feet. To draw the prints and select a color to match your nursery theme, use safe, non-toxic ink pads or paint. You can frame one print or combine more prints on the larger canvas to capture their growth and milestones.
Nursery Artwork
Select canvas prints that feature creative and comforting images, to improve the atmosphere of your baby's room. Choose a design that reflects the topic, incorporating elements such as animals, nature and dreamy landscapes. In the nursery, these prints are adding an element of magic and give your child a peaceful atmosphere.
Family Bonding Moments
To celebrate the joy and love that your child brought into our lives, create a canvas print of an emotional family moment. It may be a picture of an infant bonding with his siblings, parents or grandparents. A candid and truthful moment that will capture the happiness and connection you share with your family.
Read out this blog to have professional knowledge about Picture Perfect Moments: 5 Photo Print Sizes to Know for Picture Perfect Moments
Conclusion
A canvas print is a beautiful and lasting way to preserve the precious memories of your baby's first days. The canvas prints will preserve this extraordinary time's beauty, love, and joy, whether it's a close-up portrait painting, personalized birth photos, tiny handprints and footprints, dreamy nursery art, or family bonding moments. Choose your favourite idea, select a perfectly sized canvas and let us paint those prints on the walls telling the story of your baby's journey into our hearts and lives.
At Canvas Special, we believe that exceptional quality shouldn't come with an extravagant price tag. That's why we take pride in offering you the perfect combination of craftsmanship and affordability. Our team of skilled artisans meticulously transforms your precious memories into stunning canvas prints, ensuring every detail is captured with utmost precision. Whether it's a cherished family portrait or a breathtaking landscape, our commitment to excellence means you can trust us to deliver a masterpiece that not only captures the essence of your special moments but also fits seamlessly within your budget. Experience the magic of our quality canvas prints without breaking the bank at Canvas Special.