Canvas Prints – Elegance and Sophistication
Canvas prints are an essential element in luxury home decor, adding a touch of elegance and sophistication to any space. Whether you're decorating your home or office, order canvas prints to have an excellent way to elevate your decor and showcase your personal style. Here are some reasons why you should consider adding canvas prints to your interior design:
• Timeless elegance: Canvas prints have been used as a form of art for centuries, and their popularity has only grown over time. They bring a sense of timelessness and classic beauty to any space.
• Versatility: Canvas prints come in a variety of sizes and styles, making them versatile for any room in your home or office.
• Durability: Canvas prints are made to last, so you can enjoy your favorite artwork or photo for years to come.
• Personalization: Canvas prints can be customized to your liking, allowing you to showcase your personal style and taste.
• Investment: High-quality canvas prints can be a valuable investment, as they can appreciate in value over time.
Incorporating canvas prints into your decor can be a fun and creative process that will bring joy and luxury to your space. So why not add some glamour to your life and invest in some beautiful canvas prints for your home or office?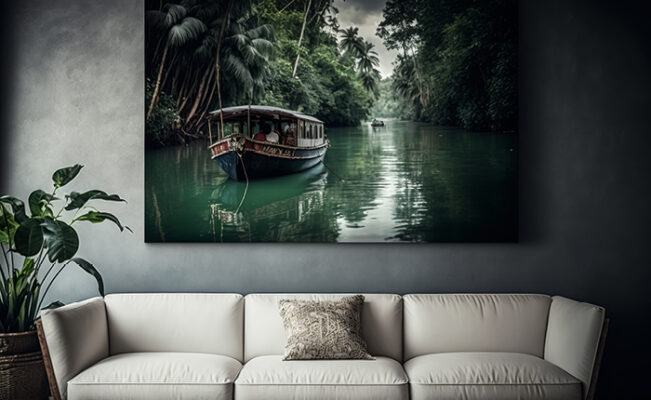 If you want to order canvas prints for your home or business, you make an excellent choice. Canvas prints are an excellent way to exhibit your favorite photographs or artwork, and they can make any room seem more welcoming and personalized. But there are several things you should be aware of before placing your purchase.
Five Essential Things to Know Before Order Canvas Prints
These are five essential considerations when acquiring canvas prints.
Quality Matters
When you order canvas prints, choosing a company that uses high-quality components, such as archival-grade canvas and inks resistant to fading, is very necessary. Because of this, your canvas prints will maintain their appealing appearance for many years to come. Choose a canvas printing company with a solid reputation if you want the most value for your money.
Size and Resolution
When you order canvas prints, it is essential to consider the image's size and quality. A low-resolution picture may not appear as nice when enlarged, so carefully choose a high-quality image that will look fantastic at the desired size. The majority of canvas printing providers will give picture resolution standards dependent on the size of the print.
Choose the Right Finish
Available finishes for canvas prints vary from glossy to matte. The finish you choose can significantly affect the final appearance of your print, so be sure to select the appropriate one for your needs. A glossy finish can make colours appear more vivid, whereas a matte finish can give your print a more subtle, subdued appearance.
Consider the Frame
While options are available, most canvas prints are stretched over a wooden frame. There are several that provide floating frames, which provide your print with depth and dimension. When selecting a print on canvas, it is important to consider the frame.
Shipping and Delivery
Be mindful of shipping and delivery timeframes when purchasing canvas prints. Some businesses may provide fast delivery alternatives, while others may take longer. Plan to guarantee that your canvas prints will arrive in time for your requirements.
Final Words
When making an order for canvas prints, examining the following five considerations is essential. You can guarantee that your canvas prints look beautiful and arrive on time by picking a reputable printing provider, choosing the appropriate picture size and resolution, selecting the appropriate finish and frame, and arranging shipping and delivery. Hence, you may confidently order canvas prints knowing you have made an educated choice.