Customized Canvas Prints Enhance the Looks
Customized Canvas Prints are a great way to add a personal touch to any room in the home. From family photos and landscapes to abstract art and motivational quotes, there is no limit when it comes to customizing canvas prints. Different customize canvases have different uses and can be placed in different places. there is a number of different customized canvas prints, however, we will discuss the popular five customized canvas prints.
5 Customized Canvas Print Ideas
These five customized canvas print ideas will help you create unique wall art that perfectly reflects your style and personality:
Family Photos
Nothing captures special moments better than photos! Whether it's an old wedding picture or a recent vacation photo, having these images printed on canvases will keep those memories alive for years. You can also get creative by adding text or other design elements onto the image before printing them out as canvas art pieces.
Landscapes & Nature Scenes
If you want something more calming for your walls, consider getting nature scenes printed onto canvases instead of framed photographs. This could be anything from beach sunsets and mountain views, all the way down to picturesque gardens with blooming flowers – whatever speaks most strongly with you! Plus they look amazing hung up together in groups of two or three along one wall space too!
Abstract Artwork & Textures
For those who prefer something more modern-looking on their walls but don't want traditional artwork frames hanging around everywhere; abstract designs are perfect alternatives – especially if they come already pre-printed on high-quality canvases as these do! You can even mix textures into this type of artwork such as metal foils which adds an extra layer of dimensionality that stands out against plain white walls (or whichever color scheme you have going).
Acrylic Face-Mounted Prints
If you're looking for something truly eye-catching then these acrylic face-mounted prints are sure to make quite the statement! The clear acrylic gives them an almost 3D effect as it reflects light differently than traditional paper printing techniques do; they're also very durable so they won't chip, fade, or discolor over time like some other materials might do when exposed to too much sunlight!
Font Collages
There is another common type of printing which is font, sayings, or quotes printing. These collage printing are common printing designs that contain the owner's name, middle name, or motivational quotes. These printing designs are usually for sitting areas or bedrooms. They come in a wide range of sizes usually they are larger in size for sitting areas but smaller sized for bedrooms People usually prefer small-sized vibrant color designs that seem perfect to enhance the look.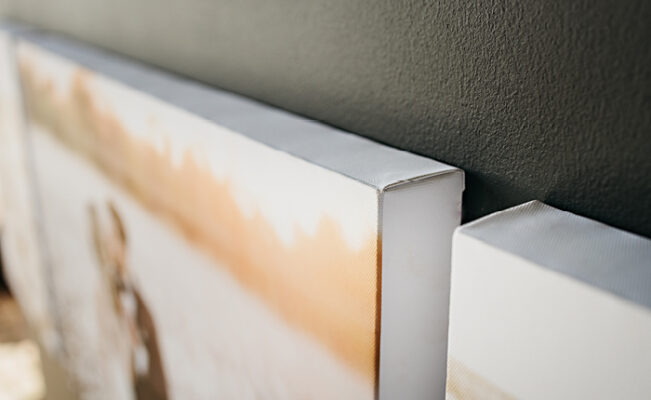 Final Verdict
These five customized canvas print ideas should give anyone enough inspiration when looking for new ways to decorate their homes without breaking the bank – plus each one looks just as beautiful hung up individually or grouped depending upon what kind of vibe someone is trying to achieve within their own living spaces. One can always go for mix-and-match prints for selecting the layout of Customized Canvas Prints.
Canvas Special is a South African company that specializes in producing a wide range of customized canvas prints. They offer a variety of sizes and styles to fit any customer's needs and preferences, from traditional landscape and portrait prints to more unique, abstract pieces. With a focus on quality and affordability, Canvas Special has quickly become a popular choice for those looking to add a personal touch to their home décor.
Additionally, the company offers easy ordering processes, fast shipping, and a customer service team dedicated to helping customers every step of the way for hustle-free customized canvas prints. Whether you're a first-time buyer or a seasoned collector, Canvas Special is sure to have the perfect print for you.