Let's be real: when it comes to art supplies, we can all be a bit of a diva. We want the best of the best, the crème de la crème, the top dog, the… you get the point. And when it comes to A1 canvas, there's no room for compromise.
You want a canvas that's not just a blank slate, but a surface that feels like it was handcrafted by angels. That's where Canvases come in – the apex of all art supplies.
In this article, we'll take a humorous look at why A1 Canvases are the ultimate choice for artists who refuse to settle for anything less than perfection.
Producing an artistic piece involves more than just ability and imagination; it also demands the proper equipment. Canvas is one of the most crucial instruments for every painter. While there are other alternatives, A1 canvas is the apex of art supplies.
If you are thinking to create a gallery wall then read this article:
This is because of its scale, which allows adequate area for artists to produce larger-than-life works of art, and its high-quality materials, which guarantee durability and endurance. The versatility of canvases make it excellent for numerous painting styles and methods. Canvases are great option for artists who want to produce breathtaking works because of their unmatched quality and cost.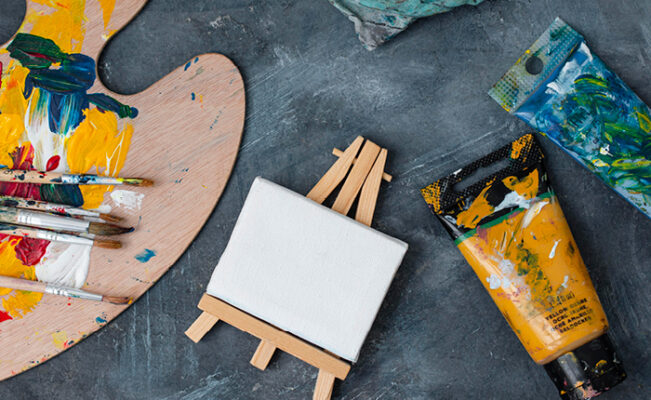 Here are some reasons why A1 canvas is the best option for artists
Size Matters
594 mm by 841 mm, the A1 canvases are the greatest size accessible to painters. It enables artists to freely express their creativity and paint without worrying about running out of space. Using various sizes of canvases, painters may create larger-than-life works of art.
High-Quality Material
A1 canvases are comprised of high-quality, sturdy, and long-lasting materials. The canvas is produced from 100 percent pure cotton, a material noted for its durability and flexibility. The canvas is also prepped with gesso, which creates a uniform and smooth painting surface. This guarantees that the paint sticks to the canvas and does not flake or chip over time.
Versatile
A1 canvas is the apex of art supplies and is suitable for various painting techniques. Its medium texture allows for both delicate and thick brushstrokes, allowing painters to create unique and breathtaking works of art. The versatility of canvas makes it a favorite among painters of various skill levels and artistic types.
Professional Look
A1 canvases give the artwork a professional appearance. The artwork has a museum-quality appearance due to its big size and high-quality material. This makes A1 Canvases the optimal choice for artists who want to present their work in galleries and exhibits.
Affordable
Canvases of A1 size are available at a shockingly low price considering their professional appearance and high-quality substance. This alternative is practical and affordable for artists looking for a way to make large-scale artworks without breaking the budget.
Finally, A1 canvas is the apex of art supplies. It offers considerable room, premium materials, adaptability, a professional appearance, and an affordable price. Artists who want to produce breathtaking, life-size works of art should purchase canvases of A1 size. Artists may unleash their imagination and create works of art that will endure the test of time with this canvas.
In conclusion, when it comes to creating a masterpiece, every artist deserves to have the best canvas possible. A1 Canvases, with their superior quality, durability, and versatility, truly stand out as the apex of all art supplies.
At Canvas Special, we understand the importance of using the best materials to bring your vision to life. That's why we offer a wide variety of canvas options to fit every artist's needs, from traditional cotton canvas to premium linen canvas. With our commitment to exceptional customer service and satisfaction guarantee, we're confident that you'll be thrilled with your purchase.
So why settle for anything less than the best? Choose Canvas Special and experience the pinnacle of art supplies with A1 Canvases.